CHICAGO — When Mariano Agosto's fiancee died a year after the birth of their daughter, he was scared and lost. A friend suggested a nearby early-childhood education center might be able to help him and his little girl.
Melanie was about 2 when Agosto visited Christopher House for a three-day trial run. He quickly realized school officials were concerned not only about his daughter's well-being and education, but also about his.
He was sold.
"What do you need?" Agosto recalled his daughter's teachers asking him. "Do you need to speak to someone? Food? Clothing? Shelter?"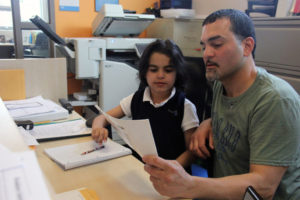 Many of the nation's top preschools have found that the magic ingredients in supporting kids and boosting their academic success are: involving parents and providing intensive support to families. Christopher House, a nonprofit organization that runs a high-performing elementary charter school and a small network of public preschools in some of Chicago's poorest neighborhoods, has infused parental support into its model. And it has taken its efforts beyond the preschool years in an attempt to tackle fade-out, a problem that afflicts even top preschools.
Too often, after launching kids into school far ahead of their peers, even high-quality preschools with intensive family support see students' academic gains slowly diminish. After a few years, the effects are often hard to discern.
To make the preschool magic last, the Christopher House network accepts children from newborns to fifth-graders, embracing the whole family as a part of the child's success.
After graduating from the preschool, most kids stay in the program, attending Christopher House's public elementary charter school. The organization will soon begin construction of a middle school, allowing students to remain in its program through eighth grade.
In just a few years of operation, the school ranks at the top of Chicago Public Schools in academic performance. Experts and teachers say this success demonstrates that meeting a family's needs outside of school helps kids focus better in school and achieve more.
"You can't teach a child without family," said Karen Ross-Williams, director of early-childhood and youth development for Christopher House. "This is what makes the difference, when you're able to partner with the family."
Lori Baas, chief executive of Christopher House, said she commonly hears preschool advocates claim they prepared children for kindergarten and blame grade schools for any fade-out; elementary school staffers point the finger at preschools, saying they failed to prepare students for kindergarten.
"We have one continuum of education that takes full accountability," Baas said. "If there's fade-out amongst our kids through eighth grade, then we've done something wrong."
Staff members at Christopher House say the program is successful in preparing kids for school. Nearly 75 percent of 5-year-olds who have attended the early-childhood program for at least two years are kindergarten-ready. Last year, Christopher House was ranked in the top 1   percent of the 473 Chicago public schools rated by the district.
Nearly 79 percent of Christopher House's third-grade students and 77 percent of fourth-graders are at or above grade level in reading. Many of these students got their start in Christopher House's early childhood program, including 80 percent of kindergarten students in the 2017-2018 school year.
…
See the more of the Agosto family in our 2018 Family of the Year video here.
You can read the full article on the Washington Post here: https://www.washingtonpost.com/local/education/you-cant-teach-a-child-without-family-its-the-magic-ingredient-at-one-preschool/2018/08/26/f6924e52-a343-11e8-8e87-c869fe70a721_story.html?utm_term=.c555b8408d84
Read an extended version on the Hechinger Report here: https://hechingerreport.org/making-the-preschool-magic-last-as-children-get-older/